Wool-Aid wrapped up the packing of the big shipment to Mongolia for the Dulaan Project recently, our second shipment of 2015 for the children of Ulaanbaatar: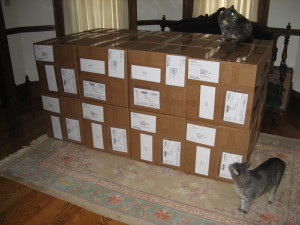 As you can see, the process was very carefully supervised by Miss Smokey from above and Mr. Fritz from below.
These 24 boxes (about 560 pounds worth) include a total of 1605 items:
839 hats
91 vests
122 sweaters
400 pairs of socks
119 pairs of mittens
34 baby blankets
This is about 300 items more than we sent in January of this year, for a total of 2912 items shipped to Ulaanbaatar in 2015! The current shipment is in transit and should arrive in Ulaanbaatar soon so that it can be distributed to the children. Current temperatures are already registering below zero there.
FIRE (Flagstaff International Relief Effort) included Wool-Aid's contributions from earlier this year in their end-of-year newsletter for 2015: Received and distributed 1,307 donated hand knitted winter items to orphanages and the disabled.
This is what you have done for the children of Ulaanbaatar this year! Thank you!