Wool-Aid has established a new partnership with some very wonderful and dedicated people in Nepal!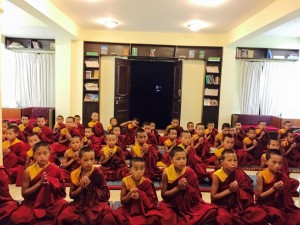 Wool-Aid items will be sent to help a group of young monks at the Tendhar Lugar Choeling Monastery in Kathmandu, but even more of our Wool-Aid items will be shared with needy children who live in the area surrounding the monastery in Kathmandu and in other parts of Nepal.
Monks from this monastery have been very active in securing and delivering relief aid to people who have been affected by the earthquakes that first hit the area on April 25, 2015, with the young monks being very much involved in these relief efforts.
There are currently 53 young monks at the monastery, ages 5 to 15. At the Tendhar Lugar Choeling Monastery, the monks can wear mustard (gold), yellow, maroon, and brown colors. They wear sweaters and vests under their monks' robes during the winter, and socks and hats are also much needed.
They would especially appreciate receiving blankets for older children and teenagers. Even in the summer, it is quite cold when they are sleeping outside in tents (as many have been since the earthquake, because of the continued danger of building collapse). They often sleep two to a mattress for extra warmth. During the more temperate seasons, the blankets help protect the children from mosquito and other insect bites in addition to protecting from the colder temperatures. Blankets for older children need to be larger than our typical blankets, so we are planning to send blankets that are 40″ × 60″ (or even a little bigger). That's a lot of 10″ blanket squares!
Clothing given to children outside the monastery can be in any color, and we expect to send a wide range of sizes for them to distribute. In the weeks after the earthquake, monks from Tendhar Lugar Choeling traveled far outside the city to reach villages that had not yet received any aid.