Wool-Aid is very happy to support children at the Duo Duo Monastery in Tibet—both young monks and children who are cared for by the monastery, which includes children who were orphaned as a result of the 2010 earthquake and children of neighboring nomads.
The Duo Duo Monastery is located 4000 meters above sea level, an altitude which means that winter there lasts from September into May, with temperatures well below freezing!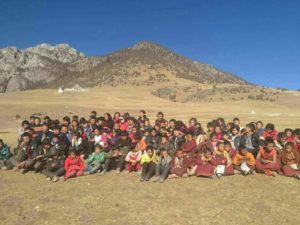 Colors appropriate for the young monks in Tibet are maroon, brown, and gold. Blankets, however, can be in other colors, and even multi-colored. Items for the other children in the care of the monastery can be in any color.
Wool-Aid is able to ship to the Duo Duo Monastery year-round, so we'll be sending a lot of warm sweaters, vests, hats, socks, mittens, and blankets to these youngsters to keep them warm!