Wool-Aid, Inc. has joined #GivingTuesday, a global day of giving that harnesses the collective power of individuals, communities, and organizations to encourage philanthropy and to celebrate generosity worldwide.
Occurring this year on December 1, #GivingTuesday is held annually on the Tuesday after Thanksgiving (in the U.S.) to kick off the holiday giving season and inspire people to collaborate in giving back in impactful ways to the charities and causes they support.
Since 2010, Wool-Aid has been helping children with limited access to resources who live in extremely cold places — Mongolia, Afghanistan, Kazakhstan, Tibet, Jordan, Lebanon, Syria, India, Nepal, northern Canada, and remote areas of Alaska. We provide them with lovingly handknit and crocheted hats, socks, sweaters, vests, mittens, and blankets to keep them warm. All of our recipients live in locations that are not easily accessible, and therefore shipping is costly. Your generous donations make it possible to send warm, woolen clothing and blankets to the children we serve.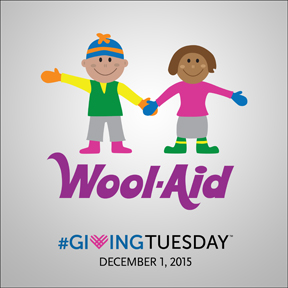 We invite you to celebrate generosity on Tuesday, December 1, and contribute to Wool-Aid. Your contribution will help provide children living in desperately cold environments with warm, woolen clothing and blankets to keep them warm.
Wool-Aid, Inc. is registered as a non-profit corporation in the State of Illinois and is recognized as a tax-exempt charitable organization under section 501(c)(3) of the Internal Revenue code (EIN: 46-5580013). All gifts to Wool-Aid are tax-deductible to the fullest extent of the law.